Wilderness and history shared
The Pasvik River flows from the greatest lake of Finnish Lapland, Lake Inari, and extends towards the Barents Sea on the border of Norway and Russia. The lush river valley forms a diverse habitat for various plant and animal species.
The great wilderness areas surrounding the river contrast the diversity of the valley. In Vätsäri, the rugged, rocky wilderness area astonishes with its beauty. The species living in the harsh wilderness are required adaptations to extreme conditions. Even though, the small ponds, bogs and even the rockeries maintain life. The Pasvik River and the surrounding wilderness comprise a unique nature system where the European, Asian and arctic species meet. Some of these species reach here the ultimate limits of their existence.
The historically remarkable Pasvik region is also a meeting point of different cultures. People have inhabited the riverbanks for centuries - hunted deer, reaped hay from the meadows, and fished. The river was an important channel from inlands to the Barents Sea along which trades from fur and wood to salt and tobacco were transported. Later, the battle for nickel found in Pechenga brought changes to the area when the rapids of the Pasvik River were needed for energy production to melt the nickel.
Despite the changes the area has undergone, the river valley with its surroundings has preserved its natural values and the diversity of species. A cloudberry ripens in the wilderness, a bear paws an anthill and a Dipper swings on a rock in the Pasvik River.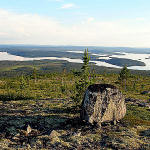 --------------------------------------------------------------------------------------------
These Internet pages were produced in cooperation as part of the Promotion of nature protection and sustainable nature tourism in the Inari-Pasvik area (2006-2008). The project was funded by EU Interreg III A Nord Kolarctic Neighbourhood programme. The pages are maintained by webpasvik@mesta.org.